Wechselwild
Wechselwild is belt innovation based in the heart of St. Pauli, Hamburg. Wechselwild provides a service to individualize belt and caps with interchangeable images that can be chosen from a gallery or directly uploaded to the site.
Features
Drupal 7
Apache-Solr-Integration
Data migration
Online-Shop
Online-Community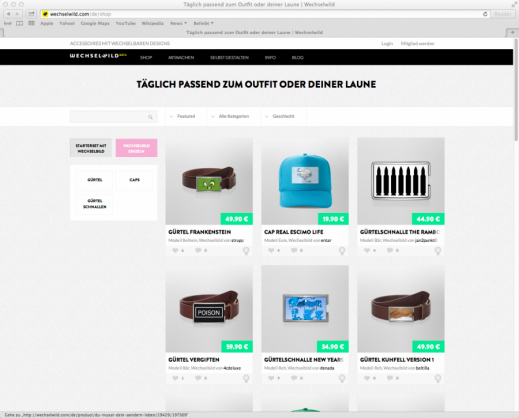 New vs old under time pressure
The Wechselwild guys wanted to upgrade their old Drupal 6 Ubercart powered shop to the latest Drupal 7 "commerce" powered shop. The upgrade needed to be done as quickly as possible in time for Christmas 2012.
We managed to implement most of the desired features and migrated the existing data into the new Drupal 7 commerce platform. Right in time for the christmas business we were able to launch the site.
Keep calm and carry on
In this project, the challenge was to keep calm to deliver it on time. We wanted to help the boys of Wechselwild and achieve an excellent result despite the time pressure.