SLM Solutions Group AG
SLM Solutions Group AG in Lübeck is a manufacturer of 3D metal printers listed on the TecDAX. The abbreviation SLM stands for the manufacturing process Selective Laser Melting.
The main focus of SLM Solutions is the creation of homogeneous metal parts by means of CAD data from metal powders using 3D laser technology.
In the FOCUS Special edition "500 Growth Champions 2016", SLM Solutions is ranked 12th in the mechanical and plant engineering sector. SLM Solutions is one of the "TOP 50 German Hidden Champions."
Features
Drupal 7
Multilingual
Mobile Website
Tasks
Implementation
Module Development
Project Management
Theming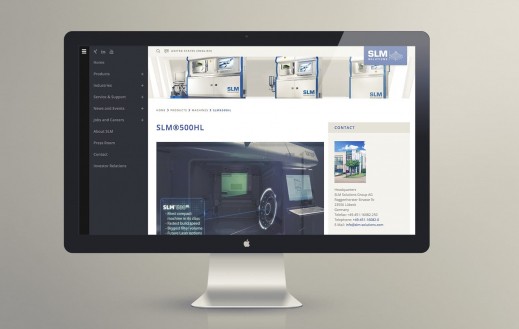 Relaunch of the SLM Solutions corporate website
We supported the company in the successful relaunch of its corporate website. The new website also received necessary modules with individual customization, supported by a cutting edge server infrastructure.
Innovative relaunch.
The cooperation with a well-known TecDAX company was particularly exciting during this relaunch. We enjoyed implementing the modern layout.
undpaul GmbH
Eleonorenstraße 18
30449 Hannover
Office hours:
Mo-Fr 9:30am - 5pm