WABCO Product Portfolio
In time for the tradeshow IAA Commercial Vehicles 2014, we revised the touch application product portfolio for WABCO, a leading global supplier of electronic brakes, stability, suspension and transmission automation systems for heavy duty commercial vehicles. Their product portfolio is a multilingual application built with Drupal which contains information, pictures and videos about the products.
Since its launch, the application has been used in several tradeshows worldwide. Because tradeshows tend to not have a great internet connection, the application works offline and is installed to big touch screens or iPads. Even the product search works offline. Before the next tradeshow, editors can change the content and then create the offline export themselves.
Features
Data migration
Multilingual
Mobile Website
Tasks
Implementation
Module Development
Theming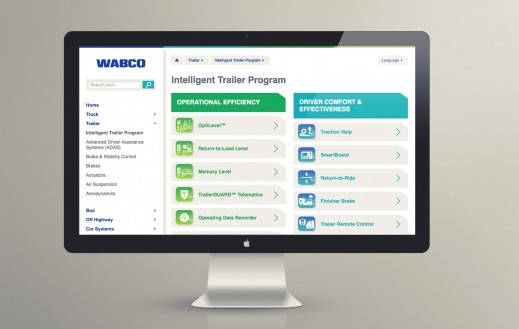 A PRODUCT PORTFOLIO FOR ALL DEVICES
This multi-lingual relaunch project based on Drupal 7 had numerous tasks. We carried out the entire restructuring, migration and integration of the existing content. The website has also been implemented responsively so that it can be used on every touchscreen on every device.
One for all.
The responsive implementation of the website was very exciting. Not only the multilingualism of the relaunch project, but also the diversity of the tasks was exceptionally instructive at Wabco.